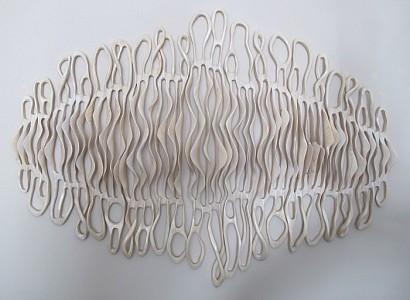 Upcoming Exhibition. Caprice Pierucci: Against the Grain
July 14, 2016
Caprice Pierucci: Against the Grain
Exhibition: July 21-August 16
Opening Reception with the Artist: July 21, 5-8pm
Inspired by natural forms, Caprice Pierucci is best known for her carved wood, wall relief works – grand tapestries of interlaced wood and captivating, curved form. Her pieces are evocative and irregular with sinuous lines that interlock, interact and repeat.
"My most recent work is about eternity and time. The undulating rhythms in the forms speak to me of our mortality, and the huge expanses of time that lead to one particular moment of beauty. I want the work to be a sensual experience, but to also have a deeper underlying place to reflect."
Pierucci is a prized, contemporary artist whose pieces draw viewers in with their meandering lines as they seek pattern in the capricious path of her craft. Sculpting for more than three decades, her work has been featured in more than 90 exhibitions across the United States and Europe; and has been curated by more than 30 prestigious collections including Westinghouse, Morgan Stanley, and the Rockefeller Collection.
A portion of the proceeds from this exhibit will benefit American Prairie Reserve whose mission is to create the largest nature reserve in the continental US, http://www.americanprairie.org. Collectors are invited to write 5% of the investment cost of works in the exhibition directly to the organization.
Back to Blog