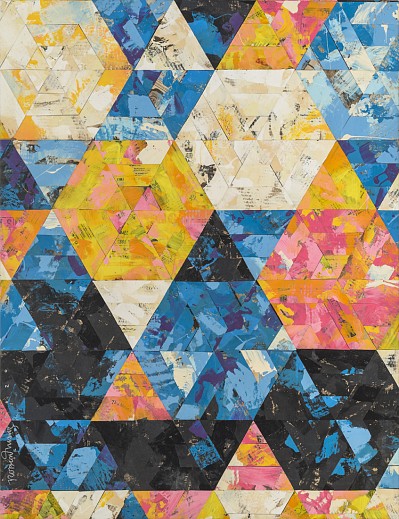 PRESS RELEASE - Robert Mars: Like Reflections
February 10, 2021 - Devin Hardy
Diehl Gallery is proud to present
Robert Mars: Like Reflections (Jan 11 – Feb 21)
Diehl Gallery is pleased to announce, Like Reflections, Robert Mars' first solo show with the gallery. This debut exhibition will feature a selection of pieces from Mars' newest body of work, one which deviates somewhat from his previous canon by being wholly abstract.
Mars has been called "an artistic descendent of Andy Warhol and Robert Rauschenberg" and while his previous pieces often focused on pop icons and familiar objects from the '50s and '60s, the new series dives into different iterations of nostalgia and craft. Mars' signature style has put celebrities and products as the central forms and figures atop Xeroxed vintage newspaper, a decision, in the age of social media and overwhelming digital content, which reminds us that the phenomenon of celebrity has changed its character entirely. There is a sense of a fading era; we no longer have Marilyn Monroes and Jackie Os in the way that these larger-than-life stars used to occupy our cultural narrative in the post-war decades. Mars' choice to move away from these symbols of American fame in some ways may be driven by the saturation of the American consumer with images and ads. Instead, the new works focus on the medium and materials themselves, giving way to an exploration of a different element of American cultural history.
In addition to the stylistic references to Abstract Expressionism and Pop Art, these works also give a nod to American craft, specifically, quilt-making. Mars lays an abstract groundwork of paint atop vintage newspapers, cuts the paintings into different shapes and reassembles them using traditional quilting patterns to create luminous tessellations. While craft arts such as ceramics, weaving and quilting were often shunned from the fine art world in the past, there has been a rise, particularly in the last few decades, of fame and acknowledgement for the place of craft in the fine art world. Artists such as Ken Price and Ruth Asawa helped to pave the way, and now more than ever, these alternative forms and materials are finding themselves in the limelight. Mars is in exactly the right place at the right time to be dexterously navigating multiple artistic traditions in with this brave new venture.
This body of work is significant in its expansion of Mars' canon and repertoire. It highlights his ability to expertly draw the line between chaos and control. These lyrical pieces straddle the divide between the sincerity and depth of Abstract Expressionism and the playful accessibility of the Pop Art movement, while also tapping into a traditional American form of craft
that is deeply seated in our own culture and in cultures around the world. Please CLICK HERE to view the exhibition.
Back to Blog