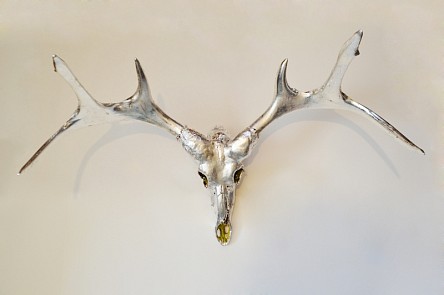 Selections from the Stacks
January 5, 2017
Silver Buck, Grant Garmezy
As our only glass artist, Garmezy's work appeals to me on many levels. Glass carries this idea of being very delicate and fragile, yet what Garmezy creates expands beyond this limiting idea. Silver Buck is an absolute showstopper of a piece that has been electroplated with copper then had silver leaf hand applied. It begs to be in a fabulous mountain home.
Humming, Susan Goldsmith
I grew up outside of NYC so this cityscape scene brings back great memories for me. At first glance, it is just a stunning cityscape, but as you look closer you start to see the depths and layers in it. I can't wait to see what Goldsmith has in store for us for her summer 2017 show!
Trio Reflection, Jenny Lake, Marshall Noice
The genius behind this piece is that there is more to see than appears. At first, the piece just seems like a very abstract painting but eventually you start to see the wonderful surprise that Noice has hidden. I like it as it is a bit of a departure from Noice's more Fauvist works and also because it reminds me of my summers at Jenny Lake with my family.
Traces, Jason Rohlf
Rohlf's work is always exciting and Traces is no exception. I love the subtle influence of Art Deco in the piece. It is a great mixture of contemporary yet still would work in homes with a more traditional atmosphere.
Untitled, Hunt Slonem
They say diamonds are a girl's best friend, but I think diamond dust bunnies are! Slonem is known for his whimsical bunnies ensconced in vintage frames. They take a luxurious turn when he adds in diamond dust showing us that diamonds aren't just for decorating yourself.
Back to Blog