BIOGRAPHY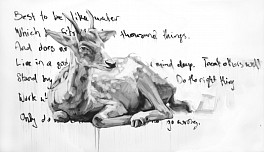 Engaging audiences through the mesmerizing eye contact central to her work, Sarah Hillock's powerful and eloquent portraiture seeks to challenge the apathy often surrounding the everyday encounter, be it with animal or human.
While majoring in drawing and painting at Ontario's College of Art and Design, Sarah received the Libby Steinbeck Alterger Award for Excellence in Figurative Studies. Her work has since been included in exhibitions nation-wide and is part of the permanent collection at the Rooms Provencial Art Gallery.
Her influences are based in the classical style of realism with an impressionistic aesthetic and an abstract ground. Sarah uses bold colours and strong strokes to carve out structure and form, forcing the viewer to use their imagination to complete the picture. With this style Sarah likes to challenge her audience; asking the viewer to feel, as opposed to see, the painting.
Sarah seeks her subjects in fields, farms and remote areas worldwide. Residing in Toronto, she is currently focused on a new series of figurative paintings combining her signature theme of classical realism with an impressionistic and abstract aesthetic.
The layers of Sarah's work travel beyond the personal, and towards the social and cultural journey we navigate as a people. She expresses this movement away from the chaos and freedom of rural and wildlife, toward the compartmentalized and controlled chaos of compounding human culture. The animals in her paintings are not in their natural environments, but instead are encroached upon, escaping, or supported by abstract forms and colours. These fields represent a gateway or threshold that the animal guards. By isolating her subjects in the frame she impresses upon the viewer the loneliness of this path but also the potential for reverence as we pass further away from our experience of nature toward a more idolized romantic version. Sarah Hillock's portraits convey both a personal and a universal experience of our migration toward a new type of relationship to nature.