BIOGRAPHY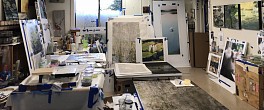 My work is inspired by the beauty I find in nature. I take lots of photographs of trees and some of these images are up in my studio where I paint. I've been creating resin mixed media paintings for the last two years. The possibilities are limitless and I plan to continue exploring these mixed mediums in my work.
For my resin mixed media pieces, I begin my creative process by gold, silver or copper leafing a panel that I've prepared with size. Next there is a layering process with resin, paint and a pigment print. I build up the surface by adding paint layers using a variety of materials that include - oil paint, oil pastel and metallic powders. I apply this paint for the most part with my hands rather than using brushes. With each layer of resin, more depth is added that mimics three dimensional space.
My undergraduate degree is in printmaking and drawing. I enjoy the process of making any kind of print. I've been working with digital imagery for the last fifteen years. My interest grew out of working with digital paint and rotoscope on special effects for feature films. I began working with gold and silver leaf seven years ago. I got inspired to work with leaf out of my appreciation for antique Chinese screens and my friendship with Robert Kushner. My mixed media paintings are a combination of old and new materials. The metallic powders that I paint with give my pieces an unpredictable radiance that varies according to the viewer's perspective. So as you walk by one of my pieces you will see the colors change similar to how colors change in nature based on; different times of day or how the wind modifies the effect of sunlight on leaves and branches.