PRESS RELEASE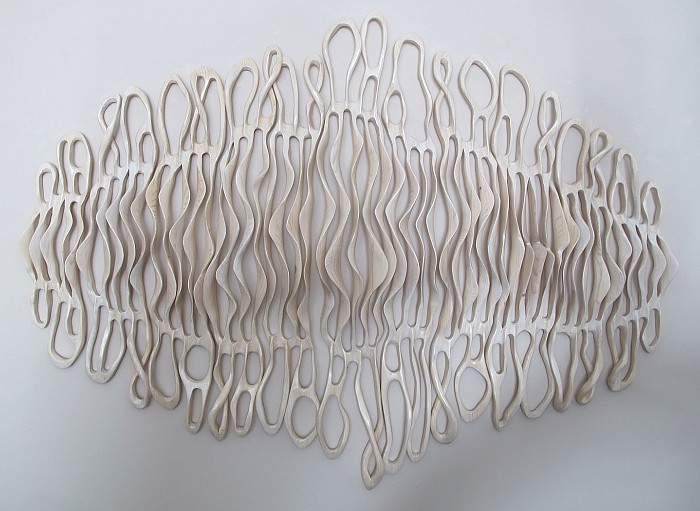 Caprice Pierucci: Against the Grain
Jul 21 – Aug 16, 2016
Diehl Gallery Presents
Caprice Pierucci: Against the Grain
A portion of the proceeds from Pierucci's exhibit will benefit American Prairie Reserve whose mission is to create the largest nature reserve in the continental US, http://www.americanprairie.org. Collectors are invited to write 5% of the investment cost of works in the exhibition directly to the organization.
Diehl Gallery presents a solo exhibition of new works by esteemed artist Caprice Pierrucci. Inspired by natural forms, the Austin-based sculptor is best known for her carved wood, wall relief works – grand tapestries of interlaced wood and meandering form that are carved as if she were weaving the wood, with sinuous lines that interlock, interact and repeat in captivating rhythm.
Pierucci has been featured in an array of solo exhibitions; and her pieces are sought after by museums and collectors alike.
"I am drawn to natural forms: earth erosion, calcite in cave formations, wind on the desert sand. Detritus of manmade objects are also appealing: such as old refrigerator grates, cracks, and scratches on metal or in cement, squashed recycled cardboard. Originally the wood was used as a support or armatures for my fibers and paper. Eventually the wood became the more expressive way to define to the images in my mind."
-Caprice Pierucci
Event Information
Caprice Pierucci's solo exhibit runs July 21 - August 16.
Join us for the opening reception on July 21 from 5-8:00 pm.
Exhibitions & Awards
Pierucci's work has been featured in more than 90 exhibitions across the United States and Europe; and has been curated by more than thirty prestigious collections including Westinghouse, Morgan Stanley, and the Rockefeller Collection. She had a solo exhibition at the Art Museum of Southern Texas in 2015. In her nearly 30 years as a sculpture artist, she has been awarded numerous honors and has continued to foster the arts as an instructor in the Art and Design Department at Texas State University.
About Her Work
Citing the work of her mother, professional fiber artist Louise Pierucci Holeman, as having a major influence on her relationship to form; the organic movement in Pierucci's wooden sculptures is often likened to that of fabric. Her use of curvilinear forms, progressive layers, and biomorphic rhythms create a sinuous interplay of shape and shadow.
Best known for her open form wood wall relief sculptures, her pieces are evocative and irregular. "My most recent work is about eternity and time. The undulating rhythms in the forms speak to me of our mortality, and the huge expanses of time that lead to one particular moment of beauty. I want the work to be a sensual experience, but to also have a deeper underlying place to reflect."