BIOGRAPHY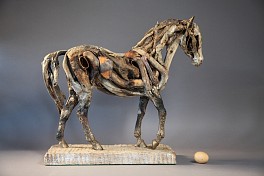 From the beginning my twin passions were drawing and horses, my hero was Leonardo da Vinci, and my dreams were of becoming an artist living in a wooded valley with clear flowing water at my door and horses grazing all around.
I was a wild young thing. I hated the confines of school especially in the summer and was a disruptive student unless in an art class. I took A level art two years early and predictably failed everything else except for English language but by some miracle that was enough to win me a place at Walthamstow College to study fine art; there, drawing was considered the first essential. I was enthralled...... Nothing beats drawing from life, I had already years of experience from drawing my ponies in the field, en plein air but drawing figures was new and I excelled in the life room. After a foundation year I went on to the now famous Goldsmiths College in London where sadly, at the time, figurative work was unfashionable, tutors seldom ventured into the life room and I gradually lost heart.
At the end of the first year at Goldsmiths I was asked to leave the course. Apparently, I was told by the head of painting, I did not have the stuff that painters were made from, with luck, I might scrape a place on a course, somewhere, to do graphics. My confidence was shattered. I was not interested in graphics.
During my time at Goldsmiths College was introduced to Bert Jansch, the legendary folk guitarist whom I subsequently married. He dedicated one of the tracks on the album Birthday Blues to me, my maiden had been Miss Heather Rosemary Sewell. In 1972, we relocated to a remote hill farm in Wales.
My illustrations appeared on the back of the Bert Jansch Album Birthday Blues.
In Wales I kept and bred Welsh Cobs. I was also surrounded by stud farms; it was fascinating to draw mares with their new born foals, my neighbor bred Arabians and Thoroughbreds.
That time in Wales was my real apprenticeship; I studied horses in depth. The accuracy of my equine drawings enabled me to command high prices for commissions and for some years that suited me very well but ultimately I felt I was merely following in other artist's footsteps. I was frustrated and lost, floundering about not knowing how to find my own artistic voice
I sought advice from Arthur Giardelli, a contemporary artist of international standing with a well-deserved reputation for being a gifted teacher. He told me to go and look at a hedge and draw what made a thorn a thorn, not just what I saw, and, perhaps more to the point, to never stop working with horses but find a way to make them mine. I am indebted to him.
I knew that to approach galleries before I had found my 'artistic voice' which set me apart from other artists would be a mistake so I kept experimenting while also continuing with private commissioned work in oils.
SCULPTURE: the first steps.
I had moved to Devon where going to Newton Abbot and Devon & Exeter racecourses became a regular activity; I sketched the horses in the parade rings and my paintings naturally reflected the bright colors of the jockey's silks. I began to sculpt horses, experimenting first with clay whilst staying with my friend Sandy Brown the ceramic artist, and her then husband Takeshi Yasuda, the celebrated Japanese potter. I also experimented with plaster and later with copper wire which was a bit like drawing in the air. The resultant classical looking pieces reminded me of da Vinci's horse sketches but they lacked the power and essential nature of the horse I sought.
Then out of the blue the answer came in on the tide. Driftwood. It was like a thunderbolt, I had never seen sculpture anything like it, it was like line drawing with wood. I had never seen any driftwood sculpture before. It had a power and authentic quality that made it something extraordinary, and it was mine alone. I knew I was finally ready to show my work to the world. As a child I never could have dreamt that it would be driftwood horses that would make my name. Courcoux and Courcoux, a Stockbridge gallery specializing in contemporary fine art, adopted me as one of their 'house artists'. Read Ian Courcoux's foreword to one his catalogues.
I was invited to create a solo exhibition at The National Trust's Saltram House and, in response to the beautiful stable yard, made my first life-sized mare and foal. The consequences of the change in scale were huge and happened very fast; the press went wild, and so did the public, at the time I was the only British artist working with driftwood; I needed to find a larger studio with greater level floor space.
THE LORD CLIFFORD TO THE RESCUE.
Ugbrooke House, has a traditional stable courtyard and Lord Clifford offered to rent me the buildings together with the two cottages that formed the rear wall. I signed the lease in October. It was heaven to have such an ideal working space and sculptures poured out of me. I took on a full time assistant and, in 2000, as part of the millennium celebrations, I was invited to take part in 'The Shape of The Century' - 100 years of sculpture in Britain at Canary Wharf. The exhibition included Henry Moore, Barbara Hepworth, Elizabeth Frink, Anish Kapoor, Anthony Gormley and David Nash, all established leading contemporary British sculptors. I had become an artist of international standing, my sculpture was recognized world wide.
From there, Tim Smit KBE, and founder of The Eden Project, bought one of my horses whereupon it became known simply as The Eden Horse. It was built in the Stable Courtyard at Ugbrooke and started a tradition of their visitors to coming to see what I was up to. Numerous American sales resulted from that exposure.
Shortly afterwards I bought my current property, high on the slopes of a steep wooded valley, only two miles from Ugbrooke and started work on the landscape. I wanted to make a sculpture garden and a way down to the clear flowing stream in the valley floor that forms the boundary. The land had been untouched for forty years and was virtually impenetrable; creating a private sculpture garden quickly became a work of art itself and another of my passions, a place to display outdoor sculpture was essential but I had no idea how rewarding gardening was to become.
Ten years on, the house has been extended to incorporate a driftwood sculpture gallery. The valley is still a place of wonder to me and is rich with wildlife; it is maturing well and has become a favorite Devon Sculpture Garden where a selection of my sculptures are always on display for clients to see by appointment in the privacy of a fabulous setting.
The gardens are open for charity twice a year with the N.G.S. and draw many return visitors. Every year I introduce something new and also open my house and studios each autumn as part of Devon Open Studios. My driftwood sculptures are now increasingly cast in limited editions of fine bronze.
In 2009 I founded Olchard Press to publish my first book, Heather Jansch Diary.
Tim Smit wrote this for the back cover:
" Possibly the most instinctive act of my life was to fall in love with a horse. Not just any horse, but a horse made of driftwood by the wonderful Heather Jansch. It was at exhibition at Eden and the time came for it to go home. I simply couldn't bear it. I bought it and have been fighting off would be purchasers ever since. Heather is a genius with an eye for nature that in another generation would have seen her burnt as a witch - now she is rightly considered one of our country's finest artists. If you were to ask the visitors to Eden "what is your favourite work here? It would be the horse and we gave the entrance to our kingdom to this horse. Richard 111 see it and weep."